A perfect 6-0, and extra inning win over RYBL earns hardware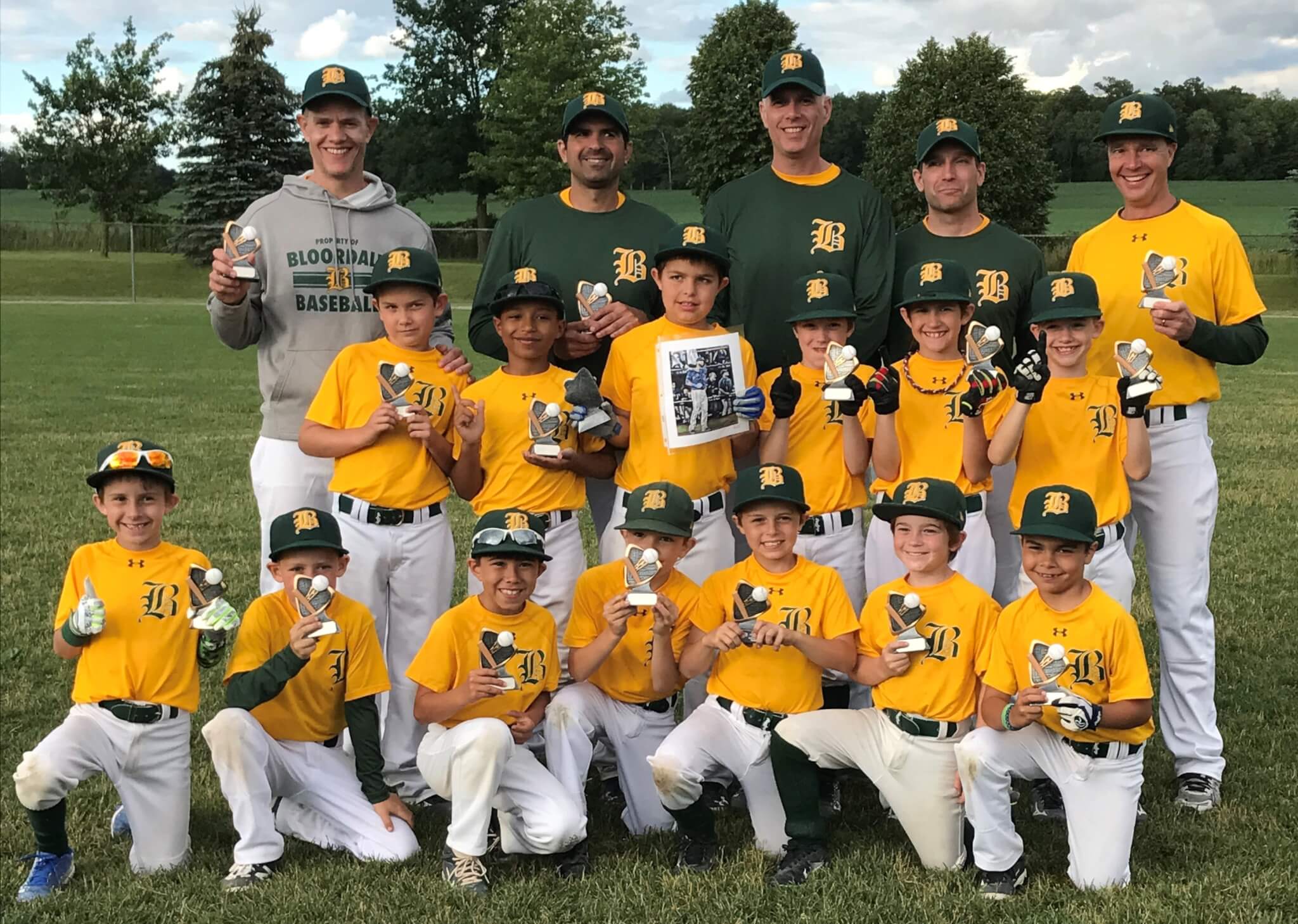 Bloordale's Rookie Green Select team went 6-0 to win the 4th annual Simcoe Rep A tournament, near Port Dover this past weekend.
They faced stiff competition from 20 Ontario teams coming from as far as Kingston and London to play in a very well run tournament.
Bloordale Green faced Vaughan Friday night, and handily defeated them 16-1. MVP of the game was Ryan McIntosh.  Saturday morning, we faced a tough team from Ajax. After falling behind early, our bats were too dominant for the "A's as we came through with a 14-10 win. MVP of the game was Matthew McCloskey-Benevides.
Saturday afternoon had us facing the tournament host Simcoe Rep team. After a lengthy rain delay, we prevailed to win 12-4. MVP of this game was Oscar Leah.
Having finished the Friday/ Saturday Qualifiers with a 3-0 record, our boys entered the sudden death Sunday round seeded #2 out of 20 teams.
Sunday morning was the battle of Etobicoke with Bloordale facing Royal York in the quarter finals.  Our boys showcased their grit and perseverance by overcoming 3 Cardinal leads, including a Bomber 2 run rally in the top of the 7th to send the game into extra innings.  After a game saving, diving catch in the bottom of the 8th with the Cardinals winning run rounding 3rd base, we finally got our first lead of the game in the top of the 9th and held Royal York off the scoreboard in the bottom of the inning to triumph 8-6.
We then faced Oshawa in the semi-finals. With both teams showcasing strong defense, the Bombers stamped their ticket to the finals with a 5-2 win. The MVP of the game was Oscar Leah.
The finals had us facing a jacked-up Ajax team, having taken down the #1 seed Clarrington in the quarters and winning the  semi's with a walk off.
The Bloordale boys were slow out of the gate down 8-4 heading into the bottom of the third inning. The Bomber bats came alive with a 2 out rally to take a 9-8 lead at the end of the third. After shutting down Ajax in the top of the fourth, our big bats came out again for a 7 run bottom of the inning to take a 16-8 lead.
Carrying that momentum out to defense, we kept Ajax off the scoreboard in the top of the 5th. Smart base running and a clutch 2 out, run scoring hit produced the 2 runs needed to end the game and win the Championships. The game MVP was Harris Pangretitsch.
Every Bomber contributed over the weekend, and the coaches were especially impressed with the boys spirit and sportsmanship shown equally to their teammates and opponents.
Congratulations to all 13 Bombers!
Photo details
Front Row – Wyatt Moore, Jack Wright, Declan Martini-Wong, Cole Ryder, Andrew Switt, Matthew McCloskey-Benevides, Matthew Castellarin
Middle Row – Jach Hannan, Oscar Leah, Harris Pangretitsch, Scott Smith, Nathan Thomas, Ryan McIntosh
Back Row – Coaches Steve McIntosh, Neville Thomas, Iain Hannan, Stephen Smith, Tim Ryder (absent Rob Mackay)